Goobi workflow
Goobi workflow is the central workflow management component for controlling digitization projects. Its strength lies in its flexibility due to its various plug-in interfaces. Since Goobi workflow is a web-based software, it can be used independently of the operating system used and the current location.
As process control, Goobi workflow receives data from various sources, controls its processing and finally exports the desired results. Any number of manual or automatic work steps can be defined for processing the data. Automatic result validations help to recognize errors at an early stage and to avoid them in the future. And statistics provide information about the current status of the respective projects during the entire digitization process. The automatic export finally transfers the data to other technical systems and supports a multitude of formats and goals.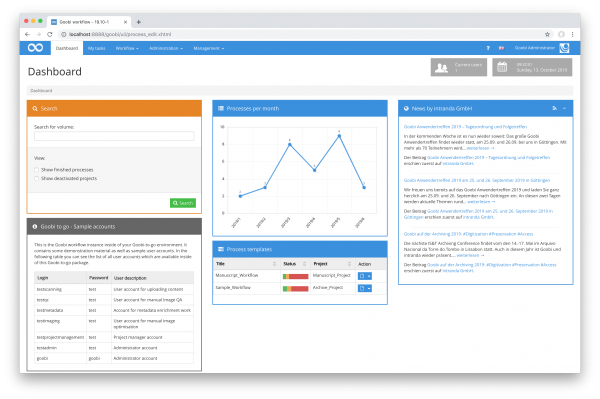 Surface
The user interface of Goobi workflow was developed completely web-based. This allows users to use all current web browsers without having to install any additional software. At the same time, this application design also ensures that several users can work with the software at the same time without having to be in the same office or even at the same location. And last but not least, Goobi users don't even have to speak the same language. Goobi workflow has a multilingual user interface and supports German, English, Spanish, Hebrew and Arabic.
Trying out
Using Goobi-to-go, Goobi workflow can be put into operation together with the Goobi viewer on its own system without extensive installation preparations. This is particularly helpful for testing and development purposes and is possible on all common desktop systems. Detailed information can be found on the Goobi-to-go description page.